A new coat may be the perfect Mother's Day gift this year as temperatures in several major cities across the United States will dip lower than those that were recorded on Christmas Day.
"A lobe of the polar vortex will spin southward and loop around the Great Lakes and northeastern United States into next week before shifting farther northwest over Canada toward the middle of May," Paul Pastelok, AccuWeather's top long-range forecaster, said.
People that have already put away their winter coats for the year may need to dig them out of the closet on Saturday morning as AccuWeather RealFeel® Temperatures dip into the teens in some spots.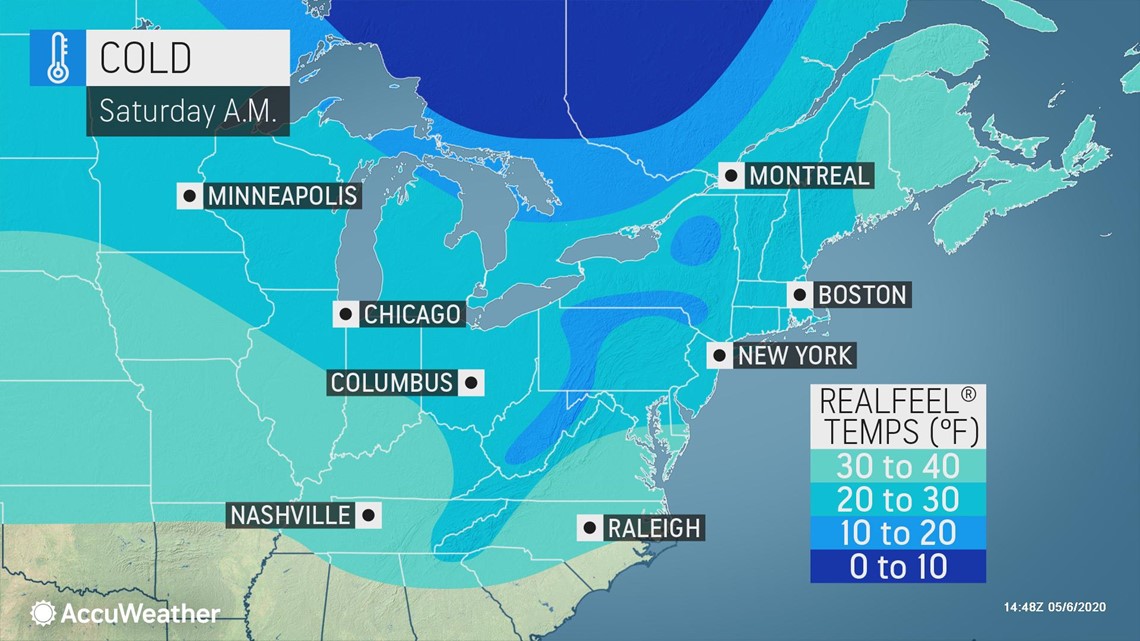 Temperatures will fail to reach levels achieved on Christmas Day in 2019 in many cities across the Midwest due to this late-season cold spell. Chicago, St. Louis, Indianapolis, Detroit, Kansas City and Cincinnati are just a few cities that are forecast to experience temperatures as much as 5 to 10 degrees lower on Mother's Day than last Christmas.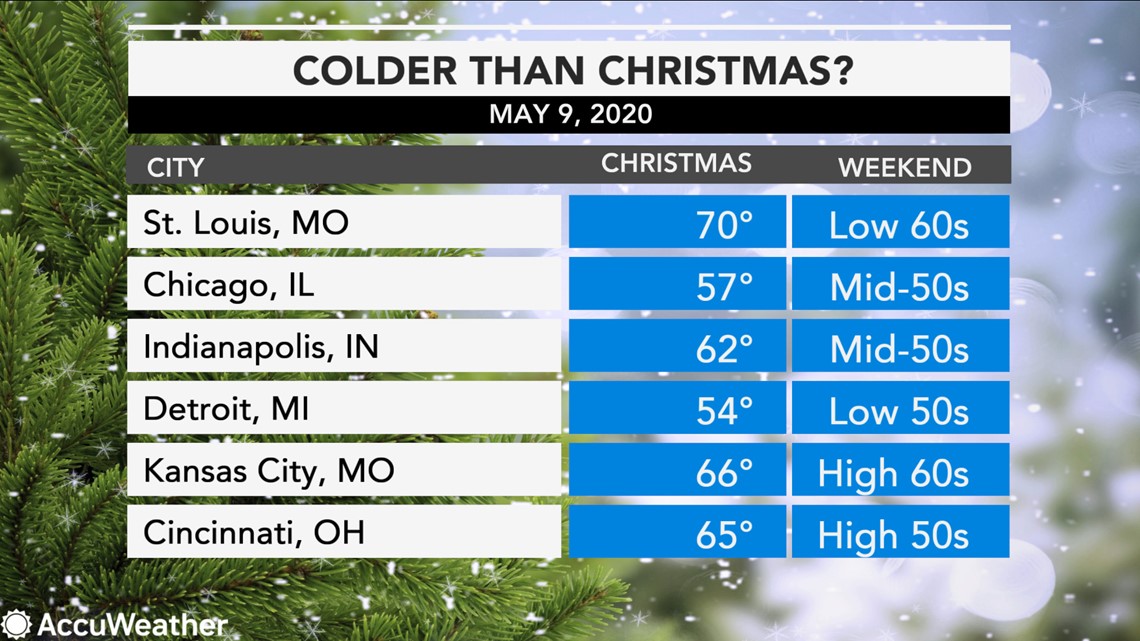 People who live in New England and the mid-Atlantic won't feel weather quite as cold as it was during the last full week of December, but wintry weather will still make an appearance on Mother's Day weekend.
A few wet snowflakes may also fall over part of the Great Lakes on Sunday as another storm begins to take shape over the region.
Some of the record-challenging cold may penetrate parts of the Southeast during the first half of the weekend before temperatures rebound just in time for Mother's Day.
In Atlanta, the temperature on Saturday is forecast to be in the lower 60s, lower than Christmas Day when the mercury hit 65 F. By Sunday, highs will jump into the lower 70s, making it much more comfortable to spend some time outside with mom.
Tranquil weather will be a treat for moms who live in the Southeast, but mothers celebrating in Florida may want to keep an umbrella or raincoat nearby as showers and thunderstorms are expected to soak the Sunshine State.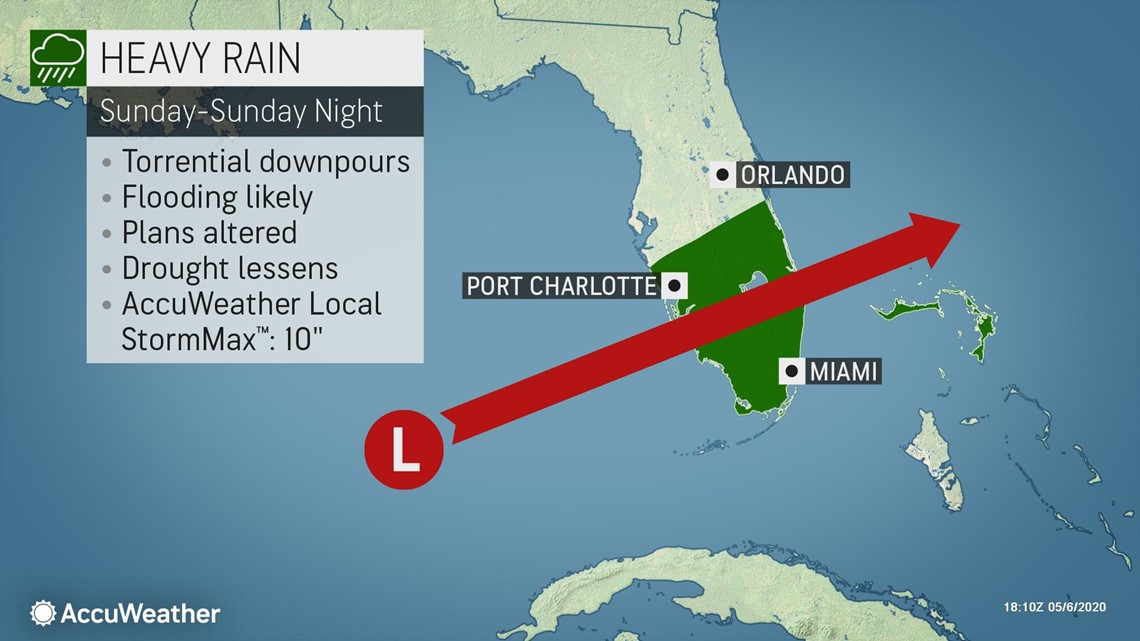 As parts of the eastern U.S. cope with a wintry chill, the western U.S. will bake in summerlike heat. In fact, some spots will be hotter than they were last year on Independence Day.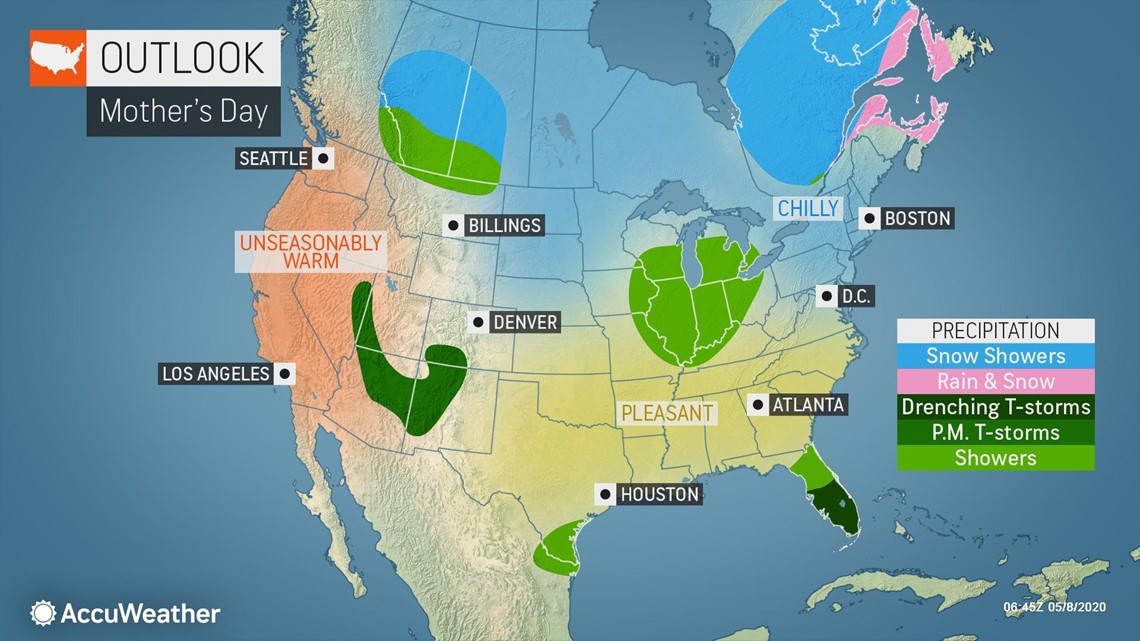 "Farther south, temperatures over California will be more typical of those in the middle to late June," Sosnowski said. "Temperatures will be within a few degrees of 70 along the immediate coast with highs well into the 80s to near 90 inland."
Summer warmth will also persist across the interior Southwest, such as Las Vegas and Phoenix, but high temperatures will fall short of record levels.
Those planning to head up to the mountains and spend some time in the outdoors while social distancing should be sure to not only bring enough water and sunscreen but also keep an eye on the weather radar.
"A weak disturbance may allow a few thunderstorms to fire off during the afternoon in parts of Arizona, New Mexico and southwestern Colorado," Sosnowski added.