NEW ORLEANS — Isaias is over eastern Canada and is no longer a tropical system.
We are also watching Invest 94 located just south of Bermuda. It is poorly organized and battling plenty of dry air as it drifts to the SW. NHC is giving it a low chance to develop into a tropical system. It will remain SW of Bermuda for the next few days. This is not a threat to the Gulf of Mexico.
There are a number of tropical waves coming off Africa. They will be worth watching as the models are trying to develop a few of them over the next few weeks. It is that time of year, the Cabo Verde Season, where we look for storm to develop near the Cabo Verde Islands and track to the west.
Elsewhere...the rest of the tropics are quiet.
_________________________________
The official beginning of the Atlantic hurricane season was June 1. This season is predicted to be more active than average, due to factors like a potential La Nina event by September and warmer-than-average sea surface temperatures.
NOAA's forecast issued on May 21 predicted 13-19 named storms of which 6-10 would be hurricanes and 3-6 would be major hurricanes (of Category 3 or higher on the Saffir-Simpson scale).
Tropical Storm Arthur and Tropical Storm Bertha which formed in May were the first two named storms of the year in the Atlantic. This is the sixth year in a row with a named storm forming earlier than the official start of hurricane season.
Tropical Storm Cristobal formed in the southern Gulf of Mexico on June 2, which made it the earliest third named storm on record in the Atlantic Basin. The previous record was Tropical Storm Colin on June 5, 2016. The messy Cristobal made landfall east of Grand Isle on June 7. Storm surge reached 3-6 feet along parts of our Louisiana and Mississippi coasts. Rain totals for most of our area were 2-5 inches, while sustained winds across our area were 20-40 mph. Some much higher rain totals and other impacts like tornadoes were felt well east of Louisiana as far as Florida.
Tropical Storm Dolly formed on June 16 over the far north Atlantic near Nova Scotia. It quickly fizzled.
► Track the tropics, live updates from Your Local Weather Experts delivered directly to you throughout the hurricane season by downloading the FREE WWL-TV News app now in the IOS App Store or Google Play.
2020 Hurricane Season forecast to be active
The Atlantic Hurricane Season begins on June 1st and predictions are being made.
Colorado State University predicts an above-normal season. The forecast calls for 16 named storms, eight hurricanes and four major hurricanes ( category 3 or higher). A normal season has 12 named storms, six hurricanes and three major hurricanes.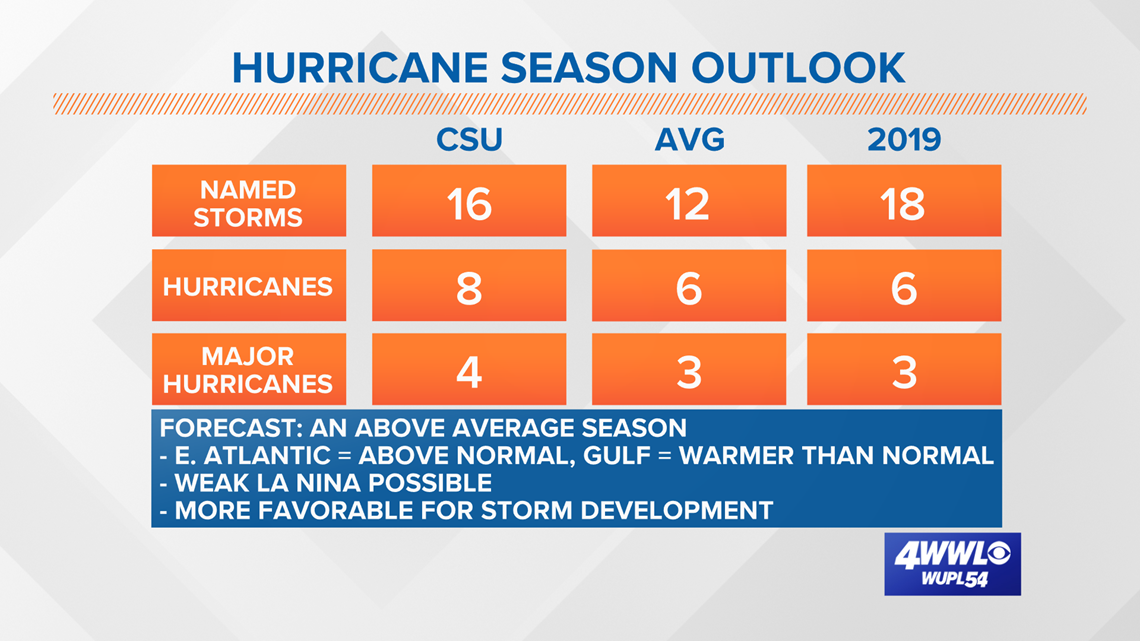 Typically when we have an El Nino wind shear is stronger and hurricane season can be less active. The reason for this above-normal forecast is the due to the lack of El Nino expected and the possibility that La Nina develops. This could lead to weaker wind shear over areas where tropical cyclones form.
Here's a look at the chance our area will see impacts from a hurricane this season. The chance that Louisiana will see impacts from a hurricane currently sits around 43%. That's lower for Mississippi at 17%. The chance a major hurricane will hit somewhere along the Gulf Coast from the Florida Panhandle to Texas is 44%. That's up from 30% during a normal season.
Remember, it only takes one storm for it to be an active season for our area. The Gulf Coast has seen impacts during quiet seasons and no impacts during busy seasons. It's important to have a plan regardless of the forecast.