NEW ORLEANS — St. Bernard Parish President Guy McInnis has declared a state of emergency for St. Bernard Parish Saturday afternoon, anticipating Tropical Storm Sally and the threat it brings to St.Bernard residents.
McInnis began urging everyone in the parish to personally prepare for the storm, a release from parish officials said.
Officials want people to know that Tropical Storm Sally had maximum sustained winds of 40 mph on Saturday, but it could become a hurricane by late Monday.
Sally is forecasted to make landfall on Tuesday with winds as fast as 85 mph as of Friday afternoon.
No evacuations have been mandated by parish officials Saturday, and crews were cleaning drains and pumping down canals, the release said.
All St. Bernard Parish pumps are operational.
Parish is positioning assets to service the potential needs of the citizens
Please pick-up anything on your property that could become a projectile or hazard
McInnis is also requesting that citizens with assets outside of the levee protection system make every effort to preserve those assets by moving them inside the levee protection system, AS SOON AS POSSIBLE.
As always, these assets will be moved inside the system on the westbound lane.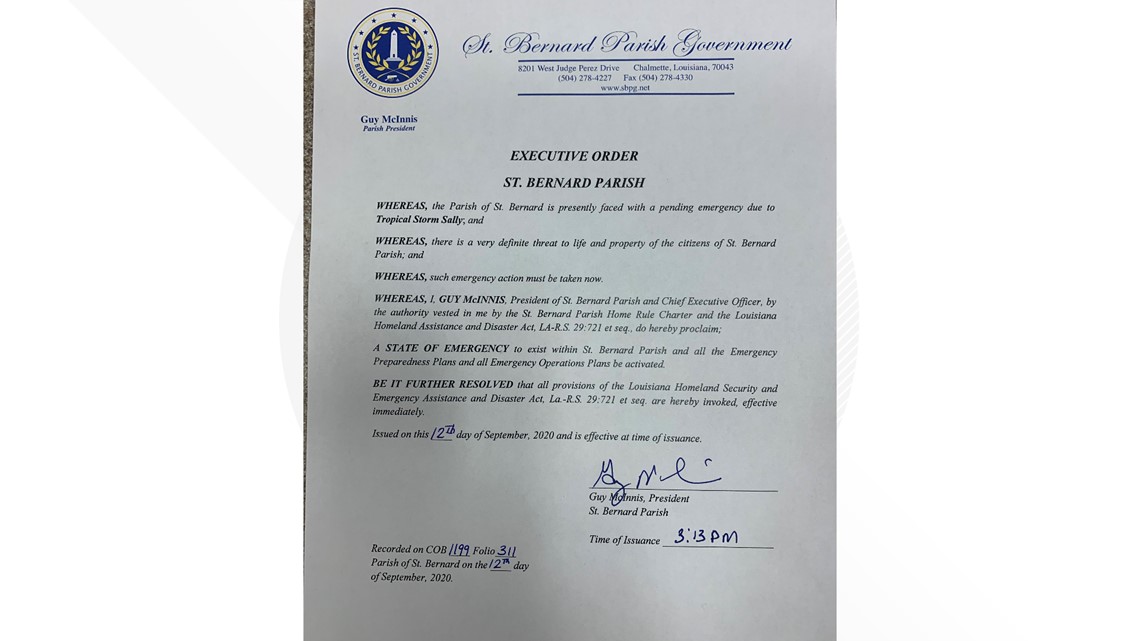 Local Commercial Fishermen that are concerned about seeking safe harbor should contact :
Derek Boese, Chief Administrative Officer – Flood Protection Authority – East, for potential lock closures, times and dates.
Everbridge Notification System
St. Bernard Parish uses Everbridge emergency notification system to alert residents about a variety of events, ranging from severe weather, fires, floods and other emergencies, to more routine announcements, such as road closures and water utility maintenance. Messages will be sent to residents on their preferred contact paths—cell phone, SMS, home phone, email, fax, pager and more—to ensure real-time access to potentially lifesaving information. Residents listed in the St. Bernard Parish 911 database will be automatically subscribed to alerts by phone, but Everbridge allows citizens to self-register, provide additional contact information or opt out. Visit https://member.everbridge.net/index/892807736729672#/signup to register.
Businesses can visit https://opensafely.la.gov/ and complete the quick process. They will receive the current life safety and COVID mitigation standards along with a placard to post. The business will then receive real-time updates on changes to include when opening is allowed for the specific type of business.
St. Bernard Parish Television YouTube Channel
► Track the tropics, live updates from Your Local Weather Experts delivered directly to you throughout hurricane season by downloading the FREE WWL-TV News app now in the IOS App Store or Google Play.