NEW ORLEANS — We're going to be updating Hurricane Ida recovery information all day on WWL-TV. We have crews headed out to all areas affected by the storm. However, there is still limited ability to transmit live out of the hardest-hit areas due to a lack of cell towers. We will have information from all of those areas though.
Bookmark this page and check back often for the latest info.
Live Updates below the image.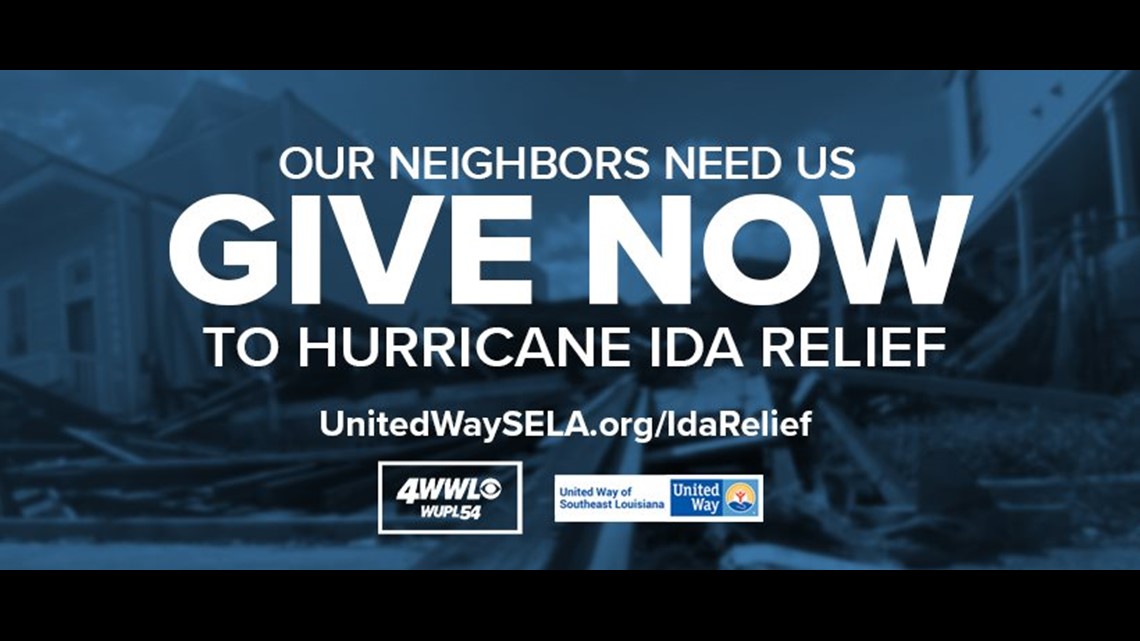 MONDAY LIVE UPDATES
12:50 PM Mayor LaToya Cantrell says the city doesn't have the resources to do COVID testing in a meaningful way at the moment, but says that all residents who evacuated to a shelter were given a test when they arrived.
12:30 PM Southeast Louisiana residents have until Sept. 12 to be considered for rapid financial assistance from FEMA for critical needs. This includes relocation assistance for anybody who had to stay at a hotel while they evacuated.
12:25 PM Tarps are available in New Orleans at the following locations:
12pm-2pm -Community Commitment Center, 8540 Spruce St.
2pm-4pm, Guste Senior Home, 1301 Simon Bolivar Blvd.
2pm-4pm, Light City Church, 6117 St. Claude Ave.
3pm-5pm, Life of Faith Ministry, 10709 Chef Menteur Hwy # 5
12:10 PM City officials are warning that the city is coming up on the time when mosquito eggs laid in pooled water after Hurricane Ida will begin hatching, and that residents should drain any standing water immediately to prevent an infestation.
Noon Cox has 39% of its customers restored in New Orleans, city officials say.
11:30 AM Lafourche Parish Sheriff Craig Webre says 48 people have been arrested in the parish since Hurricane Ida struck. Three of those arrests have been for looting.
29 people were charged with violating the nightly 7 p.m. to 6 a.m. curfew.
11 AM Entergy now says over half — 51% — of customers who lost power after Hurricane Ida have been restored. In New Orleans, that number is around 70%.
Utility officials say they expect 90% of customers to be restored by Wednesday.
10:40 AM S&WB says their sewage system is still not at full capacity, meaning residents should be mindful of their water useage, especially for large appliances such as dishwashers and washers. Those appliances should be used as infrequently as possible.
10:10 AM Gov. John Bel Edwards' office says that 3,529 people are being housed in 23 shelters across Louisiana.
10 AM The phone line for Operation Blue Roof is having technical issues. Anybody looking to apply for a tarp should go to blueroof.us until the issue is resolved.
9:35 AM Tide is supplying mobile laundry units at the Walmart at 1616 West Airline Highway in Laplace today and Tuesday. The washers will be open from 9 a.m. to 5 p.m. both days.
9:20 AM St. Charles Parish residents remain under a boil water advisory until further notice. Anybody in the parsish should boil water for one minute before using it to cook or brush teeth.
Residents are also being asked to limit sewer use because the parish's sewer system remains in a fragile state.
9 AM A Gretna man walking along a powerless Jefferson Parish road was struck in a hit-and-run crash. Then, he was hit by multiple other cars going down the roadway because they couldn't see him lying in the road because there were no lights.
8:30 AM Louisiana National Guardsmen have begun ferrying emergency equipment from Lafitte to Barataria, which is cut off from vehicle traffic because of damage from Hurricane Ida.
Updates continue below gallery.
National Guard ferries emergency equipment to Barataria
8:05 AM The Louisiana National Guard say statewide, they've distributed 2,437,765 MREs; 117,484 tarps; 2,731,964 liters of water; and 377,107 bags of ice.
Distribution continues throughout Southeast Louisiana, including in LaPlace, where much of the area sustained heavy damage.
7:45 AM The Central City library in New Orleans will open from 10 a.m. to 5 p.m. today as a cooling center with water, device charging, & Wi-Fi access. The library is located at 2020 Jackson Ave.

7:20 AM The city of New Orleans is now detailing where to find gas in the city. Fuel has been a scarce commodity in the city since Hurricane Ida took out power to the region.
7:10 AM Jefferson Parish Sheriff Joe Lopinto says residents returning home should manage their expectations for the parish, especially in regards to fuel and fresh food.
Both of those things are in short supply, and returning evacuees should make sure they have some supplies before coming back because it will be some time before stores and gas stations return to normal operation.
6:50 AM Southeast Louisiana schools remain closed as many of their students are without power.
St Bernard Parish public schools plan to open Sept. 13.
New Orleans and Jefferson Parish public schools remain closed until further notice.
Schools in Lafourche, Terrebonne, St. Charles and St John parishes also have no estimated reopening time.
St. Tammany Parish schools say they haven't determined when to reopen, but said parents will get a three-day notice before they do.
6:30 AM Thibodaux will rescind its alcohol ban today, meaning stores can once again sell liquor. The city remains under a curfew each night from 7 p.m. to 6 a.m.
6:10 AM Today, Gentilly and the Ninth Ward are expected to get power, along with several other streets and neighborhoods in New Orleans. For a full timeline, click here:
6 AM Cox says credits will be provided to all residential customers who experienced outages because of Hurricane Ida.
5:40 AM The Coast Guard says a wellhead belonging to S2 Energy was discharging oil into the Gulf of Mexico in the wake of Hurricane Ida. The company says it has since secured the wellhead and it is no longer releasing oil.
The impacted area is about 100x100 yards, but estimates of how much oil was released into the water have not yet been completed.
5:20 AM There's rain in the forecast today, meaning a flash flood watch for much of Southeast Louisiana until 9 p.m. Rain is expected to continue through Wednesday or Thursday.
Most of the area has already been battered by Hurricane Ida, and infrastructure is critically fragile.
Anybody who has not covered their damaged roof or walls should do so as soon as possible to avoid water coming in.
5 AM LDH says they inspected the Tangipahoa warehouse where more than 800 nursing home residents were evacuated to twice ahead of the storm.
According to the health department, the facility was originally deemed fit to house them temporarily.
4:45 AM Entergy says they have restored power to nearly half of their customers in New Orleans by Monday morning. Most areas in Orleans Parish are expected to come online by Sept. 8, but a few of the hardest-hit areas along Chef Menteur Highway east of Chef Pass could be out for an additional three weeks.
Entergy says service to many customers in those areas will be restored before these dates.
OLDER UPDATES
9:30 PM: Jefferson Parish officials said if anyone has questions about insurance related to #Ida ? Call 1-800-259-5300
9 PM: Divers at the site of an ongoing oil spill that appeared in the Gulf of Mexico after Hurricane Ida have identified the apparent source as one-foot diameter pipeline displaced from a trench on the ocean floor and broken open.
7:45 PM: In New Orleans, all bus routes have been restored to a modified Saturday schedule beginning Monday, September 6. Buses will also run on the Canal and St. Charles streetcar lines, on the modified schedule. Service will run daily from 6 a.m. to 6 p.m.
To see live updates from Sunday, click here:
More Stories:
► Get breaking news from your neighborhood delivered directly to you by downloading the new FREE WWL-TV News app now in the IOS App Store or Google Play.