NEW ORLEANS — Another round of heavy storms once again made several streets impassable, making school pickup and afternoon rush hour a major problem and getting inside of some businesses in the Central Business District of New Orleans Monday.
Video showed water in the city's Contemporary Arts Center as the Warehouse District took some of the major flooding.
A call for a Flood Advisory for the area quickly escalated to a Flash Flood Warning that lasted from around 4 p.m. until about 5:45 p.m.
WWL-TV Meteorologist Alexandra Cranford said that between 3 and 5 inches of rain fell in about a two-hour period Monday afternoon.
Story continues under video
"We are continuing to monitor incoming weather," said a Tweet from the Sewerage and Water Board. "We are actively engaged in a flood fight. Heavy amounts of rain fell on many areas... Please stay weather award and don't drive through flooded streets."
Sewerage and Water Board spokesman Richard Rainey was more direct, "We have been in close communication with the DDD and other downtown stakeholders as we continue to investigate just why we are seeing unusual flooding incidents," he said in response to an inquiry by Investigator David Hammer. "The results of Monday's rain event were extreme and our team is taking an all-hands-on-deck approach to get to the bottom of it. That will take time and research, but we agree that the flood phenomena we've witnessed in recent months deserve a thorough investigation, and, if necessary, an action plan to address it."
Story continues under Gallery
New Orleans flooding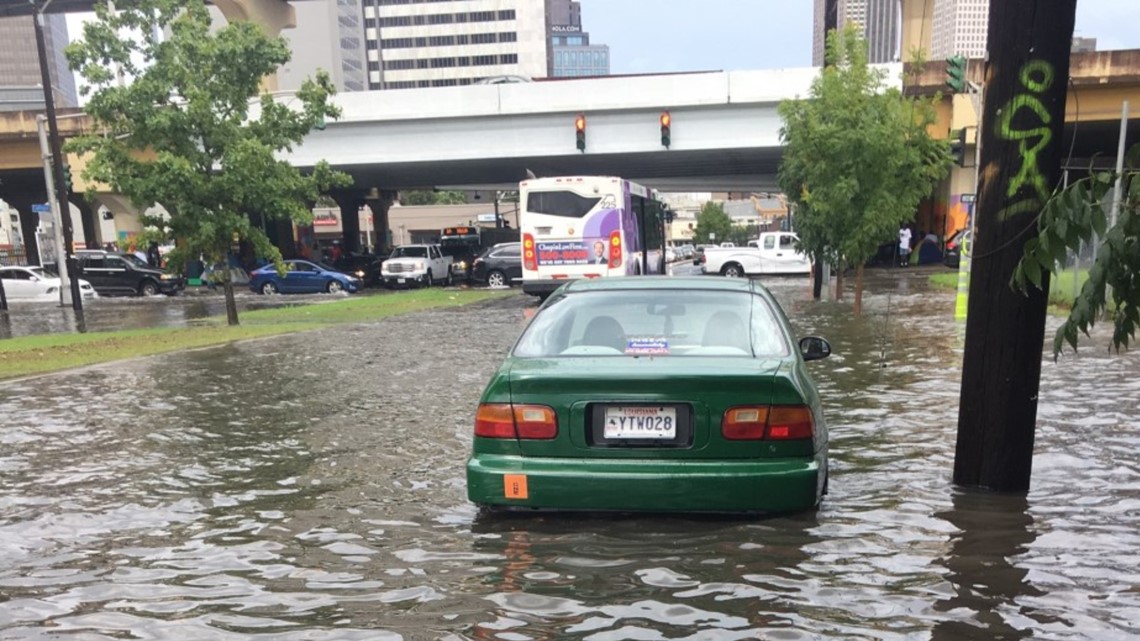 The city of New Orleans lifted restrictions for parking on the city's neutral grounds – restrictions that had just been lifted early Monday after being in place all weekend.
People walking along Poydras in the Central Business District - even those used to the street flooding events - have begun to have their fill.
"This is unacceptable," said Melvin Gurley, who said he ruined a brand new pair of tennis shoes. "Something's got to be done."
The Entergy Centre, a large CBD building that houses the city's major utility company, took on water for the second time in three months - this time they used a makeshift drainage system to siphon water back onto the street.
Fred, who was wading through water between ankle and knee high, said he works at Entergy and that as bad as Monday was, June's flood was worse.
"The last storm that we had, we had water up to our knees for hours, I mean, what's going on," he said. "I don't think it's the pumps, I think it's the drainage system and the pipes under the city all tore up. The water don't have no where to go - even if the pumps are working. They just pulled a raggedy car out of one sewer last week that's been there for years, so who knows what else is in those pipes?"
Story continues under video
The rain came on so quickly and was so heavy in a short amount of time that few had time to react.
Flooding was reported in the Warehouse District, across Poydras in the Central Business District, St. Charles Avenue, the main thoroughfares in Algiers, including General DeGaulle.
RELATED: Abandoned car pulled from underground New Orleans canal likely had been there for years
RELATED: Car, other debris found in underground canal that overtopped in July 10 flood
The Monday incident would be at least the sixth event in the past two years that has turned major areas into gridlock.
Kurt Weigle of the Downtown Development District surveyed the water on Poydras Street near Baronne and said he didn't have the answers.
"Starting in August 2017, we started noticing something different," he said. "Something is going on here. I don't have the answers, but we need to get answers real quick."
Story continues under Tweets
Most of the flooding was just of the nuisance variety, delaying travel, ruining some shoes, soaking pants and occasionally putting water in businesses.
Jimmy John's sandwich shop on Poydras got one to two inches. Peyton, a manager at the store, said the water would be pushed out and business would open Tuesday, but they unanticipated closure probably cost the business several hundred dollars.
"We've been shut down for a few hours and we're definitely not going to be making any deliveries in the CBD or Uptown area," he said.