Popular Houma bowling alley, destroyed by Ida, finds new life
Bowl South of Louisiana grew from a family that is deeply woven into the fabric of Terrebonne's Cajun culture.

This story is part one of Katie Moore's two-part series on Bowl South of Louisiana in Houma, La. Part two of this series airs 10 PM on Tuesday on WWL-TV.
When Hurricane Ida churned over Terrebonne Parish for hours, the storm's high winds, rain, and storm surge pummeled homes and businesses that had been hurricane-tested but stood strong for decades.
The storm ripped apart landmarks for the people of Houma, including a bowling center named Bowl South of Louisiana that sat off to the right on Grand Caillou Road if you were headed down the bayou.
It was a cream-colored, cinderblock building with a corrugated metal roof that housed perfect games and good times for hundreds of bowlers, and the hopes and dreams of its owner, Marie Lirette.
Ida took a bite out of the back wall of Bowl South and peeled the metal roof off like an orange.
"It took my breath away. It was literally a punch without getting punched. It was a punch," Marie said about how hard it hit to see her business in shambles the day after the storm.
The business she had built with her late husband, Terry, over the decades was gone and her life would never be the same.
Bowl South History
:
Woven into Cajun Culture
Bowl South of Louisiana grew from a family that is deeply woven into the fabric of Terrebonne's Cajun culture. Marie is the youngest of twelve children and while they didn't quite form a rock band, as the saying goes, the Dusenberry family formed a troupe of folk singers who used to perform at their Chauvin family restaurant, La Trouvaille.
The restaurant became a tourist attraction over the years, with the Dusenberrys assuming the role of cultural ambassadors. Marie remembers the moment her life started down a different path when her sister hired her to work at the bowling center at age 16 (it had a different name then).
"I remember Mama going, 'You're not going to work at the bowling alley with Veronica' and I'm like, Mom," Marie said, adding an extra syllable to the word 'Mom' in feigned protest, chuckling about the memory of her mom's disapproval.

Veronica did hire her in 1976 and Marie says she never left. Bowling was in her blood and she would work her way up to buying the center in 1992.
The local newspaper even wrote a story about it at the time. It was big news for small-town Houma.
She and her husband, Terry, dedicated their lives to building the business. They hosted Professional Bowling Association tournaments, formed high school leagues, hosted community fundraisers and put their bowling center on the map.

"My husband and I didn't have children. You know, I say that I think maybe we forgot, but we were so in love with what we were doing. And we focused all our attention on the bowling center," Marie said.
From the fun times to the tough times, like when Marie lost her hair from a condition called alopecia areata, the couple tackled life together and their bowling center centered them as a couple.
Bowl South also meant a lot to Marie's family and the regulars who bowled there, many of whom counted on seeing the couple every week either for leagues or on a weekend with their kids, perhaps.

"It was O'Neill and Melinda Bonvillain that actually married on in the bowling center on Lanes nine and ten," Marie said.
Others caught the bowling bug at the center, leading them to grow up year after year throwing balls down those 24 lanes, including R.J. Ugas.
"I spent more time over there than I did at home," Ugas said.
He scored his first perfect game at Bowl South.
Now in his 40's, Ugas is self-admittedly obsessed with bowling. His game room and garage are full of bowling memorabilia, including tables made from the wood of bowling lanes, pins signed by celebrities, such as players for the New Orleans Saints football team, and balls with special meaning.

"Bringing my children there when they can barely walk and crawl, put them up on a lane and hold the ball and push it. And for them to do that on the same lines that I played on as a ten-year-old, same spot, that's what was special to me," Ugas said.
The business gave the Lirettes a bigger bowling family than they could have imagined.
But when Ida struck on August 29, 2021, and the power went out on surveillance cameras at 12:21 pm, that was the beginning of the end the Lirettes' home away from home.
The Aftermath
:
Beyond destruction
When the hurricane chewed up Bowl South, it spit out pieces of Marie's business blocks away. A month after the storm, additional rain fell freely through the steel beams where sections of the roof were ripped off.
Bricks littered the back lot behind the building and you could see couches and a pool table soaking wet, but still standing like Ida hadn't even touched them.
Photos: Hurricane Ida destroys Bowl South of Louisiana in Houma, La.
"Insulation was blown throughout the entire building like cotton candy somebody had just blown everywhere. And it was a huge mess. Like it was almost like, just give up hope and just walk away," Ugas said.
Marie went from living most nights at the bowling center with the noise and excitement the balls rolling, pins crashing, machines clunking and music playing to silence.
"I went from one extreme to the other," Marie said.
For her, it was a lot like the feeling she had the day after her husband, Terry died a few years prior.
"That moment of knowing things will never be the same of the life you knew," she said, adding it was hard.
The decision not to rebuild was made for her, both by the declining popularity of the sport in recent years, and a pandemic that left many bowling centers looking for a lifeline.
"I really couldn't. Financially, I couldn't. Insurance-wise, we had enough to pay off the debt that I had, and I'm grateful for that. But there was no way financially that I could start over," Marie said.
But even in the condition Bowl South was in, Ugas couldn't quite let it all go.
"I kind of kept sending Marie hints. I'm like, hey, let's try to save the equipment list. I think the lanes are still good," he said.
Photos: New life to Bowl South of Louisiana after Hurricane Ida
So, Marie ended up posting the parts and pieces of her Bowling Center for sale in a Facebook group for bowling equipment sales.
"We had people contact me and they were telling me that they needed synthetic lanes or pin setters or ball returns or a lane oiling machine," Marie said.
Some got the gear for a fraction of the cost while Marie let others come get whatever they could salvage for free. Pieces of Bowl South of Louisiana would ultimately end up in eight other states.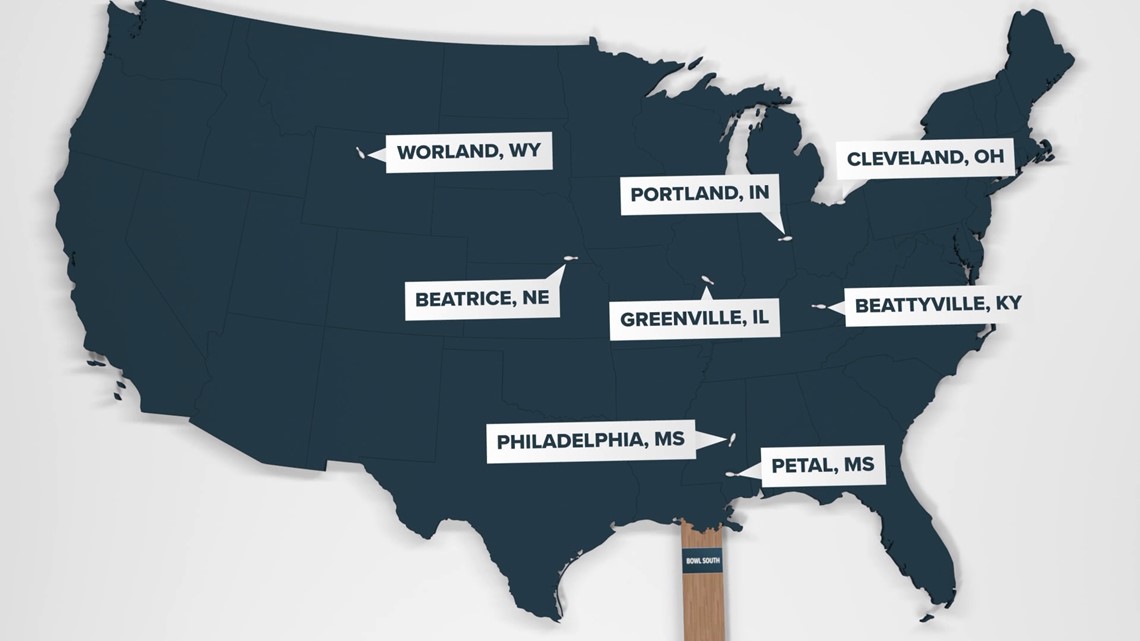 "It's making a difference for those small bowling centers that gave me so much peace," Marie said.
Hurricane Lanes
:
Help arrives
The first bowling center to make the journey down to Houma to get some gear was aptly named Hurricane Lanes. Marie said she couldn't believe it when one of the owners, Michelle Noland, had reached out to her, "I said what? Wyoming? Hurricane Lanes?"
A bowling center in a town that deals with sub-zero snowstorms in the winter instead of tropical storm systems in the summer had a bowling center named for them.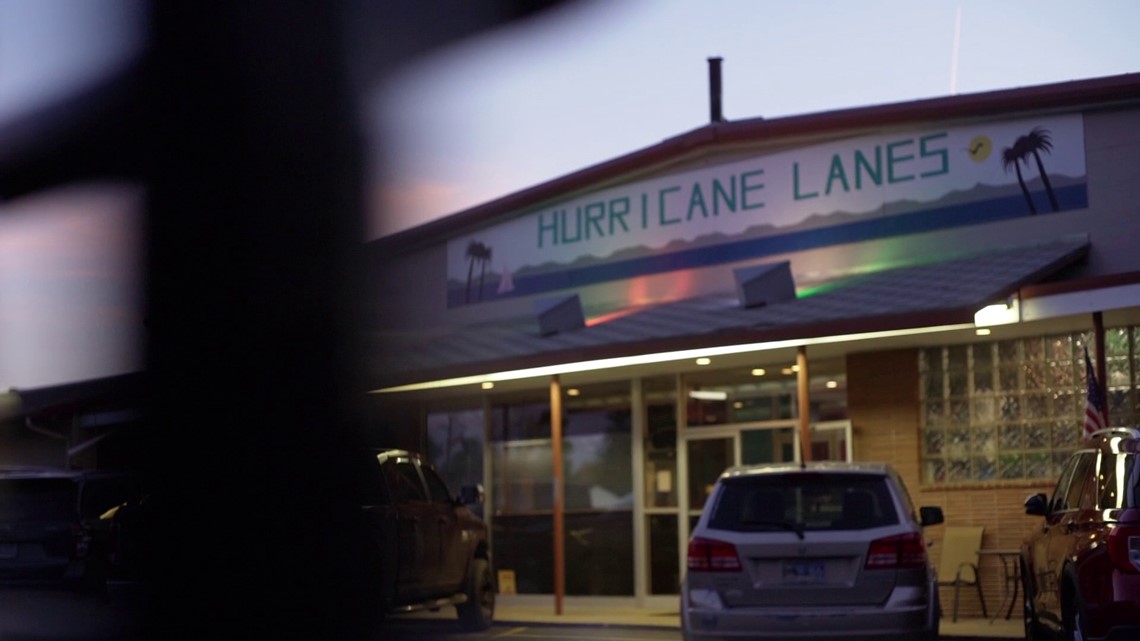 Michelle's ex-husband and co-owner, John, named it when they bought the center in 1992 and John had hit the jackpot twice in one night on a hurricane-themed slot machine.
They needed the synthetic covers that add years onto the life of his wooden bowling lanes.
"Really cool stuff happened from these us getting these lanes," John said.
Bowl South gave Hurricane Lanes new life.
"And it's growing. It didn't go boom, it's really cool, and like a firework and then it's done. No, it's still growing," John said.
When the Nolands' bowling family worked long hours to install the lanes in the first week of 2022, they made sure to put them in exactly as they were at Bowl South in Houma. So, lanes nine and ten where the Bonvillains tied the knot, remain lanes nine and ten.

"I would love to take a trip to every center. That's, that's a goal for me, is to go and visit all the places that have a piece of Bowl South and it's still living on," Marie said in August. By October, she would make the journey and fulfill a life-long dream.
Back in Houma
:
The road home
For Ugas, it seems the idea of bowling on Bowl South's lanes outside Louisiana is a lot like eating Cajun food outside of Cajun country. It can still be really good, but there's just something about experiencing it at home.
So, Ugas made part of his home a piece of Bowl South. He built a single lane with Bowl South's wood in his garage with center's banner up above it, Terry Lirette's banner from his time with the PBA hangs off to the side.

It makes Marie emotional to see how much more Ugas has added to the spot each time she visits.
"To see my husband's banner from the PBA, this is incredible. You know, all of the just, memories in it. When I look at all this, it kind of takes me back to those moments," Marie said.
Ugas loves having a piece of a place that has meant so much to him in his home.
"I grew up my whole childhood living 3 blocks away. I could look at the building through my front room window," he continued, "When I have a day where I really miss the place, I go sit in my Bowling room, and give a long look at everything and be grateful of what I saved. That's how I keep the place alive in my heart."

Marie had a tough time dealing with the quiet. John said he imagines how difficult can be.
"The empty and the quiet got to be a hole that's hard to fill," he said.
I kept Marie from bowling, from even putting her fingers in the holes of a ball for over a year because of all she lost. It was just too hard, she said, "And then knowing that I wasn't home doing it. You know what I mean?"
► Get breaking news from your neighborhood delivered directly to you by downloading the new FREE WWL-TV News app now in the IOS App Store or Google Play.