Retired Catholic priest indicted on 4 charges including rape, kidnapping
The accuser recalls that Hecker approached him under the guise of showing him a wrestling move, choked him unconscious and "sodomized" him, his attorney said.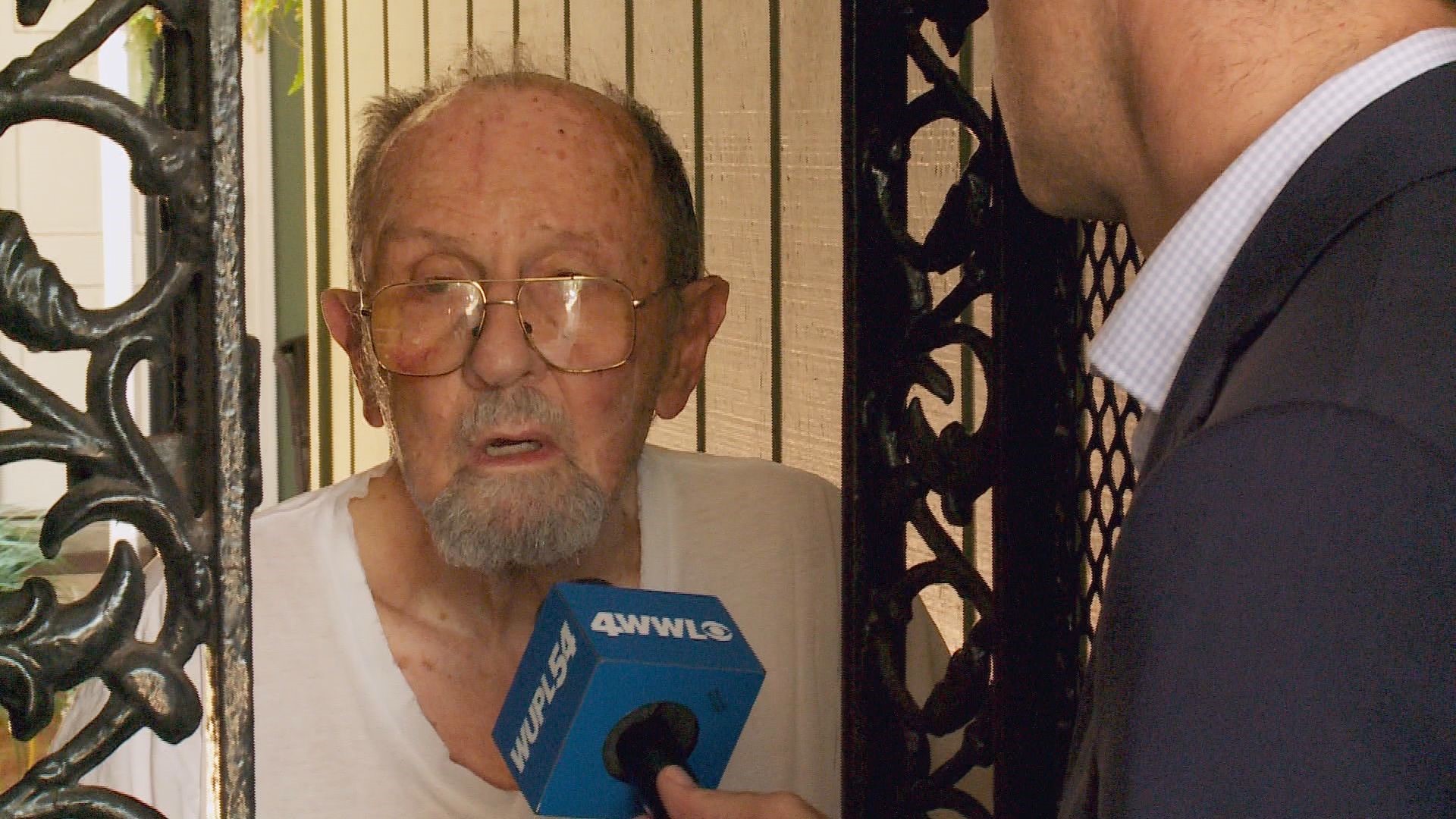 A retired Catholic priest from New Orleans who years ago secretly admitted to church leaders that he sexually molested or harassed numerous children is now at last facing criminal charges.
State prosecutors in New Orleans obtained an indictment charging Lawrence Hecker, 91, on Thursday with aggravated rape, aggravated kidnapping, a count of aggravated crime against nature and a count of theft.
The crimes allegedly occurred at the now-shuttered St John Vianney prep school – adjacent to St. Theresa the Little Flower of the Child Jesus church – where Hecker worked in 1975, when the accuser was either a 15- or 16-year-old child, according to the alleged victim's civil attorney, Richard Trahant.
In Louisiana, statutes of limitation do not prevent authorities from pursuing long-ago allegations of child rape.
Hecker told WWL-TV on Thursday that he had no comment on the charges filed against him. New Orleans's district attorney, Jason Williams, said at a press conference focused on the case against Hecker: "The fact that a child went to [his school] and told them what happened and nothing happened is a sin and a shame.
"We're going to do everything we can in our power … many years after this prosecution should have been brought to try to find some sense of closure for this victim."
In Louisiana, statutes of limitation do not prevent authorities from pursuing historical allegations of rape.
Charges follow report
:
The charge against Hecker comes a little more than two months after the Guardian reported on a statement that he gave in 1999 to church leaders in which he acknowledged committing "overtly sexual acts" with multiple underage boys in the late 1960s and 1970s. He also acknowledged having unusually close relationships with other boys stretching into the 1980s but had not faced any substantial consequences until prosecutors in the office of Orleans District Attorney Jason Williams obtained Thursday's indictment.
Just last month, WWL-TV and British newspaper the Guardian published an interview during which reporters for the outlets confronted Hecker about his 1999 statement. Hecker – while WWL cameras rolled – twice said, "Yes," when asked if he committed the specific sexual acts laid out in the statement.
It was the first time ever that he had admitted to such conduct while in a public setting.
During that interview, WWL and the Guardian asked Hecker directly if he ever choked and raped anyone. Hecker denied that he had.
Trahant said that Thursday's indictment results from a law enforcement investigation which began more than a year ago and required his client to submit to multiple interviews with authorities.
'The Worst Day of My Life'
:
"It means everything," Trahant said of his client's reaction to the indictment against Hecker. "He's endured this for years. He got to the point where he felt like, 'No matter how many times I tell the story of the worst day of my life, nothing is going to be done about it.'"
Hecker's case illustrates the extreme measures that the Archdiocese of New Orleans took to hide the truth about him from a region with about a half-million Catholics. Earlier in his career, reports of the misconduct to which Hecker eventually admitted led to a conversation in 1988 with the city's archbishop at the time, the late Philip Hannan.
But, by the clergyman's own telling, Hannan didn't take any action against him, satisfied with Hecker's assurances that he would never "be in any such circumstances" again.
After persistent reports against Hecker prompted his 1999 statement to church leaders, the archdiocese sent him to an out-of-state psychiatric treatment facility, which diagnosed him as a pedophile. The facility recommended that the archdiocese prohibit Hecker from working with minors or other "particularly vulnerable" people, according to a secret church personnel file obtained by the Guardian.
Little done despite 'pedophile' diagnosis
:
Hecker's abuse claims cost Archdiocese hundreds of thousands
However, Hecker's career continued unabated for a few years. He was assigned to a church with an elementary school attached to it in 2000.
He worked there until he was allowed to quietly retire in 2002, after a Catholic clerical molestation and cover-up scandal engulfed the archdiocese of Boston, prompting the worldwide church to adopt reforms and promise transparency.
Hecker's retirement didn't stanch abuse claims against him. Over a period of several years beginning in 2010, the archdiocese paid more than $332,000 to reach out-of-court settlements on five complaints alleging sexual abuse by Hecker. Those agreements were among more than 130 abuse-related settlements totaling $11.6m that the archdiocese paid out during those years.
Yet the New Orleans archdiocese did not inform its congregants that it strongly suspected Hecker had molested children until it released a 2018 list of priests and deacons who were considered credibly accused sexual predators. The archdiocese published that roster under pressure from the public to fulfill promises of transparency amid the lingering clerical abuse scandal.
Even then, the archdiocese refused to stop paying Hecker's retirement benefits until 2020. That year, the archdiocese filed for federal bankruptcy protection in large part due to abuse-related litigation, and the judge in charge of the proceeding ordered a halt to payments to credibly accused clergymen.
At least 15 claims for compensation alleging abuse by Hecker have since been filed as part of the archdiocese's bankruptcy case. The bankruptcy is still pending.
The archdiocese said it reported previous allegations against Hecker to law enforcement, but a letter to New Orleans police in 2002 only listed one allegation against Hecker and did not mention the priest's 1999 confession.
At Thursday's press briefing, Williams's top assistant district attorney, Ned McGowan, said: "justice has been delayed and denied to the victims of Lawrence Hecker for decades."
"He was hidden in plain sight," McGowan said. "And today is the first step to imposing accountability."
Trahant on Thursday said federal investigators began scrutinizing Hecker last year. Louisiana state police investigator Scott Rodrigue took over the case more recently in coordination with Williams's office.
Trial could expose secrets
:
If eventually convicted of rape and kidnapping, Hecker would face a mandatory sentence of life imprisonment. Louisiana's current definition of aggravated crime against nature is essentially the same as statutory rape, but in 1975 it was defined as a man having sex with a boy who was too young to consent. In this case, that crime could carry up to 15 years in prison for Hecker, if convicted.
He was not immediately in custody Thursday, but an arrest warrant was issued.
Members of the public could get a better idea of the evidence against Hecker as the case progresses.
Though much of that evidence hasn't been publicized, one document that is known to exist is a deposition which he gave as part of a lawsuit filed against him and the archdiocese – before the church filed for bankruptcy, indefinitely delaying the proceeding.
The contents of the deposition – taken in late 2020 – remain sealed off from public view, though legal documents obtained by the Guardian do refer to it. Those documents assert that Hecker admitted to viewing images depicting child sexual abuse if they "appeared" on his computer while surfing the internet.
Documents describing the deposition also maintain that Hecker repeatedly invoked his constitutional right against self-incrimination – a clear sign that he was worried about one day being criminally charged.
New Orleans-based federal Judge Jane Triche Milazzo last week denied a request from one of Hecker's alleged victims, Aaron Hebert, to unseal the deposition so that it could be released to the public, arguing that it was a matter of community safety. Milazzo's decision had a similar effect to prior rulings from other judges who kept the deposition under seal.
Hebert is not the victim in the indictment handed up against Hecker on Thursday. That victim's identity has not been publicly disclosed.
Despite the newly filed rape charge against Hecker, many who have been following his case are worried that the nonagenarian may not live long enough to be tried in front of a judge or jury because of his advanced age.
Multiple clerics who were revealed to be suspected abusers after the archdiocese released its 2018 list have since died without being tried or convicted, despite sometimes being criminally charged by authorities.